Romantic and intimate Mallorca same-sex weddings
Congratulations on your engagement! Whether you've waited years for same-sex legislation to come, or your relationship has just now taken a serious turn, if it's time to start planning your dream wedding, we can help! Why choose us? We are a gay-owned wedding planning company, passionate about weddings and other special celebrations. We are experienced and love to help couples make their wedding day as special as it can be with minimum fuss and no stress.
There is no better destination for a gay wedding than Mallorca
While the island enjoys high popularity among mainstream travellers it is also enormously popular among LGBT travellers… we are a very gay-friendly island! Among the various options we offer, Mallorca sunset weddings and celebrations in traditional fincas (country houses) are by far the most popular. We can transform any space to make your vision come to life. Whether the celebration is small and intimate or large and grand, Mallorca has the right venue to meet the needs of each individual couple. Is your baggage ready?
Plan your dream gay wedding in Spain with us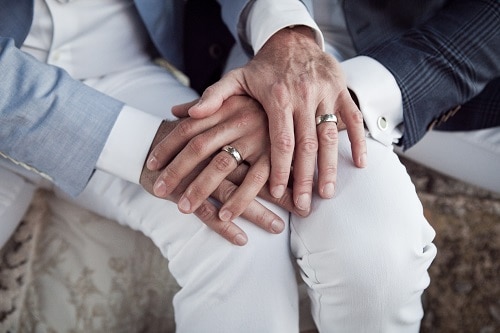 Weddings in Spain are becoming more and more popular. They allow you to affirm your love for one another surrounded by family and friends in a breathtaking destination. With FAB events LAB's expert wedding planner team helping you every step of the way, creating your perfect gay wedding in Spain has never been easier.
We are pleased to offer wedding planning services for same-sex weddings in Mallorca
Our wedding planning service is ideal for couples with a busy life and no time to plan a wedding. Our wedding planner will take you all the way from ideas and concepts through to co-ordination of everything on the big day to create your perfect wedding with minimal stress and hassle.
Are you planning to have your wedding in Mallorca? Let us help plan your perfect romantic celebration!
We'd love to hear from you.
Still not sure? Have a read at what some of our lovely couples have said…