Intimate Mallorca Boat Weddings
Mallorca is the perfect destination for a boat wedding and there are traditional sailing boats or yachts, on which to exchange your vows. Alternatively, you can get married on a catamaran and then sail around the Mediterranean for your reception. Or why not enjoy a boat trip with your guests after your wedding? The magnificent panorama of Mallorca from the Mediterranean Sea with its beautiful coasts and bays provides an unforgettable backdrop to your big day and all those photographs! Couples and honeymooners can choose to relax and celebrate their love on an utterly romantic honeymoon cruise or plan a luxury wedding reception or wedding party on a yacht, as they watch the dazzling colours of the sunset painting the horizon.
Our weddings on a boat in Mallorca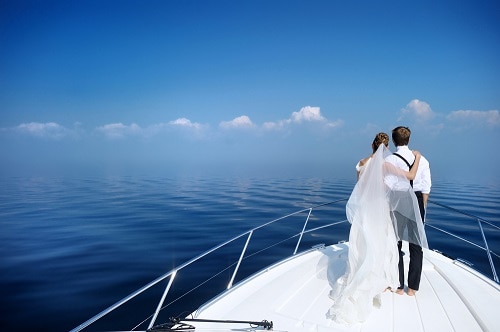 Our wedding boats are the perfect choice for your wedding receptions from up to 50 guests. Yacht rentals offer a unique opportunity to celebrate any occasion and special event in the most luxurious yet affordable way. The organisation and planning of unique events in a yacht environment or wedding yacht receptions can be left to the hands of our experts. Newlyweds could enjoy the most romantic private cruise around the bedazzling island of Mallorca.
Mallorca is rightly famous for its amazing scenery, and is a popular island for weddings and honeymoons. We are proud to offer exclusive charter arrangements for such special occasions. From a private tour just for the happy couple, to full-fledged excursions for the entire wedding party, we are happy to make your special occasion just that… special!
For your private event, wedding, holiday charter, birthday party, anniversary, graduation, or other celebration on the water, FAB events LAB is the perfect choice for all your event and coordination needs. We don't just plan … we design and create your special day according to your budget.
Contact us today to book your event or wedding on a boat in Mallorca.
Call us or alternatively fill in our online enquiry form with your requirements and our wedding planner will get back to you.